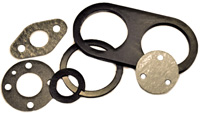 Cardinal Rubber & Seal, Inc., provides custom gasket cutting services. We can meet your custom gasket needs with hand-cut, die cut, KnifeJet, and WaterJet precision cut gaskets made to your specifications.
We offer 24-hour emergency services, same-day quotes, and OEM gasket duplication.
Cardinal Rubber & Seal is proud to be one of the pioneers of WaterJet gasket cutting technology, which allows us to cut gaskets precisely and accurately with numerically controlled WaterJet machines.
Whether you need sheet, strip, extruded shapes, or geometric figures such as circles, rectangles, etc., Cardinal can meet your needs for made-to-order rubber products.
---
ADVANTAGES OF WaterJet CUTTING TECHNOLOGY
Precision and accuracy up to +/- 0.005"
Cost-efficient: No tooling charges
No heat-related distortion of material
8' x 12' cutting bed allows ease for the production of larger gaskets
Cuts materials up to 3" in thickness
---
Available Materials
If the material you need is not listed, please contact us for information about additional available materials.
Neoprene
Buna/Nitrile
Cloth-inserted Neoprene
EPDM
Silicone
Non-Asbestos
Belting
Linatex
FDA Approved Materials
Gum
Viton
Sponge
Corkneo
Felt
Teflon
Polypropylene
Polyethylene
Polyurethane
Cellulose
Graphite